Agricultural vehicles

in

the

Crash

Recovery

System
Agricultural vehicles in the CRS
We recently added the first agricultural vehicle, the Alltrec 4810T. This universal machinery carrier can be used for different tasks, depending on the machinery mounted. The various machinery, such as lawnmower, weeder or sweeper/brush machine, are attached to the front of the vehicle. The Alltrec 4810T is mainly used for green space maintenance in cities and parks.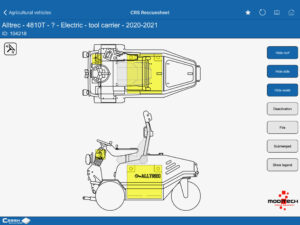 The Alltrec 4810T is fully electrically powered, with the front wheels providing the drive and the rear wheels the steering. The 48-volt Lithium-iron-phosphate (LiFePO4) battery pack is available in a 20 kWh or 30 kWh version. The battery pack is located in a sealed steel container in the centre of the vehicle. Using both batteries, it is possible to work a full day with the vehicle, depending on the job.
For emergency responders, there is a service/emergency switch on the steering column to cut the power to the vehicle completely in case of emergency. When the vehicle comes to a stop, the handbrake is automatically applied.
In some cases, this agricultural vehicle can be traced via the registration number. When this vehicle is involved in an accident or fire situation, emergency responders can always retrieve the information manually in the CRS via make and model in the agricultural vehicle category. We will be adding more agricultural vehicles to the CRS in the coming months, so be sure to stay up-to-date.