Crash Recovery System

Terberg

YT203-EV

electric

terminal

tractor
Another special vehicle added to CRS
One of the reasons that the Crash Recovery System is so distinctive for a first responder is its wide variety of vehicles. The most extraordinary ones are, of course, in the Special Vehicles category. We have already added vehicles such as the 2getthere (self-driving shuttle), Canta (disabled vehicle), Piaggio Ape (three-wheeled commercial vehicle) and the IJveer electric ferry. The Terberg YT203-EV will be added in the September database update.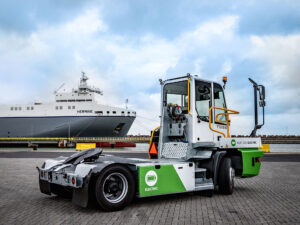 The Terberg YT203-EV is a new generation electric terminal tractor. Terminal tractors are used in harbours, airports and large warehouses for moving containers.
The YT203-EV's new electric drive system performs similarly to diesel engines, and the large battery version provides a significantly longer range than before. The new batteries, which comply with the ECE-R100 rev. 2 directive, are resistant to very high and low temperatures, enabling the new Terberg YT203-EV to be used worldwide.
Reason enough for Moditech to add this special vehicle to the Crash Recovery System.
What matters most in the event of an accident?
Crucial information to support the appropriate action can be accessed in the CRS for this terminal tractor. As the YT203-EV is fully electrically powered, deactivation is a critical element. Hereby, follow the deactivation procedure in the CRS.
Crash Recovery System – Know what's inside, see what to do!