CRS Instructor Experience: David Dalrymple
Moditech Rescue Solutions works with many instructors and distributors so that first responders worldwide can become familiar with and comfortable using the Crash Recovery System. As a fire service instructor and RoadwayRescue (New Jersey, USA) founder, David Dalrymple has worked with the CRS for almost 20 years and knows its benefits like no other. In our newsletter item "CRS Instructor Experience", David shares his experiences using the Crash Recovery System during emergency response and training sessions over the years.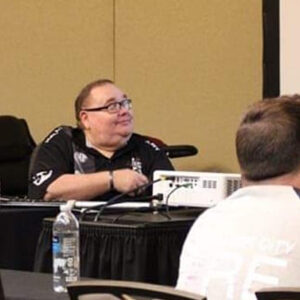 "One of the key points of CRS use, at least in my eyes, is that not only does this App work so well for response, but it also for training and educational purposes. In fact, my business RoadwayRescue and myself use Moditech CRS in every educational program in some way, shape, or form."
Dave Dalrymple – RoadwayRescue


How would you describe the CRS?
The CRS is a digital vehicle information system available on three levels of service, based upon how it searches (number plate, VIN or manually), the number of vehicle categories in the database and a static or interactive vehicle graphic. Once the correct vehicle is found, it is displayed on the screen with various colour-coded safety components depicted in the vehicle in the correct location for that vehicle.
Why do you think there is a need for the CRS?
While scene hazards have not changed all that much, the vehicle is the dynamic hazard in every vehicle-related incident. Thankfully with the CRS (the longest vehicle rescue system around and in my eyes the gold standard), we do have a way to find critical information about vehicle technology-related concerns and easy access to find them.
What are the significant benefits of using the CRS do you think?
The CRS shows quickly and easily all rescue-relevant information about the vehicle, like the location of essential components (battery, airbags, inflation cylinders, gas struts and advanced steel reinforcements). Information screens with text and pictures support these. When the vehicle has alternative propulsion, the first screen tells you it needs to be depowered. This screen tells you how to perform the steps to perform it and gives you visual cues in stages of actual photos of vehicle devices and how to perform it. The CRS also shows secondary and even tertiary ways.
In your opinion, does the CRS offer enough different vehicles in its database?
The CRS database is extremely comprehensive, covering more than just cars and vans. Trucks, Buses, Two wheelers, Special vehicles, Motorhomes and even Agricultural & Construction vehicles are part of the database because some of these vehicles are hybrid or electric-powered. Moreover, a free database update is available for download every month, ensuring that a user always has access to the latest vehicles.
Moditech Crash Recovery System: Know what's Inside. Act with Confidence!