Fully electrically powered MAN eTGM truck added to Crash Recovery System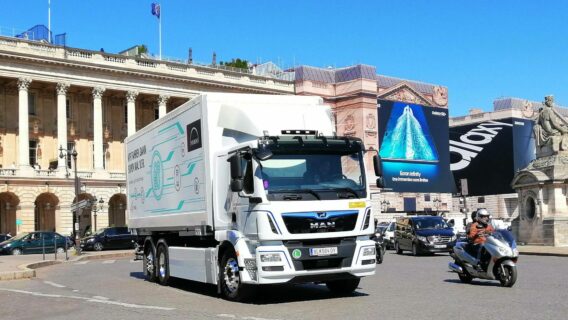 Since the autumn of 2018, truck manufacturer MAN has been conducting field tests with e-trucks together with nine Austrian customers from the CNL (Council for Sustainable Logistics) consortium. The nine companies each operate one electric MAN eTGM and are therefore making an invaluable contribution to the development of the truck. What will follow next is small-scale production and sales.
The truck, manufactured in Steyr, Austria, meets all the essential requirements for the urban distribution traffic of the future. The model is emissions-free and produces no engine noise due to the electric drive. The e-truck is ideally suited as a refrigerated van with electric transport cooling or as a swap body truck.
The eTGM is available as a 26-ton three-axle steered trailing axle configuration with full air suspension. The electric drive is provided by a 264 kW (360 hp) electric motor with a maximum torque of 3.100 Nm. The energy is stored in twelve powerful lithium-ion battery packs (total capacity 185 kWh) from the Volkswagen Group, which are located above the front axle, where the diesel engine is located in conventional trucks. The battery packs are cooled by a so-called 'chiller'. Additional battery packs have been placed on both sides of the chassis. The range is up to 200 kilometres, depending on the deployment area, climatic conditions and driving style. The conventional battery pack consists of two 12V/155 Ah batteries.
During braking and deceleration, the tractive force of the truck is converted into electrical energy and fed back to the batteries. This recovery technology can significantly increase the range of the eTGM. A display in the cockpit informs the driver of the current energy level of the batteries. The connectors to charge the batteries are located behind the front axle on both sides of the vehicle. This can be done in several ways; with the 150 kW connector, the truck is recharged in about an hour. Ancillary units such as the power steering pump, air compressor for the brakes and suspension, and the air conditioning system are electrically operated and controlled by the energy management system and work in an energy-efficient manner.
Electric propulsion is becoming increasingly important in the search for solutions for clean mobility. These trucks will have a major impact on the market in the coming years when it comes to the replacement of diesel trucks. As a result, emergency service workers will increasingly have to deal with these types of vehicles.
All information about this truck will of course be available in the november update of the Crash Recovery System. The Crash Recovery System currently describes more than 30 different electrically powered trucks, such as the DAF CF Electric, Ginaf DuraTruck E 2114, Mercedes eActros and Volvo FE Electric.
Crash Recovery System – Know what's inside, see what to do!