Market development

The

electric

LCV

market

is

growing
Global electric light commercial vehicle market to grow in the following years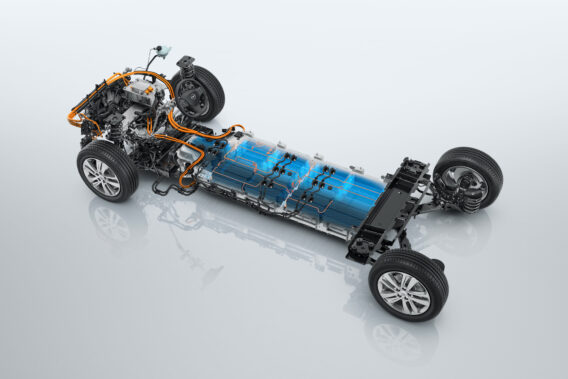 Smart companies are recognising that electrifying their light commercial vehicle fleets is not only a successful mechanism by which they can demonstrate their green credentials to their customers, but is also, increasingly, the sensible economic decision.Whilst there are differing motivations for commercial vehicle electrification in each of the key geographical markets, there are strong drivers in each which are pushing them towards the rapid adoption of electric motors in place of conventional internal combustion engines.
The LCV market is uniquely positioned for the rapid uptake of electric vehicles for several reasons, which include:
LCV purchase decisions are commonly made on a TCO basis (Total Cost of Ownership). The significant operational cost saving of electricity, in place of diesel, as a fuel is incorporated into the decision-making process of an LCV purchaser to a much greater degree than is the case for private customers in the electric passenger car market, where upfront cost is more often the determining factor. According to Ford for example, the E-transit can save up to 40 percent in TCO compared to the diesel models. Where the TCO benefit of an electric vehicle can be demonstrated, it becomes a competitive advantage for operators to run electric vehicles. For smaller vans there is evidence that this is already the case. For larger vans, TCO advantage is dependent on the level of government support through purchase grants.
Range anxiety not an issue
Fleet managers have a detailed knowledge of the daily duty requirements of their vehicles. As LCV operators understand the daily mileage they require from their vehicles, range anxiety should not be an issue for the LCV market. OEMs must work with their customers, pre-sale, to understand firstly if their vehicle can meet the daily duty demand in the worst case scenario (cold, fully laden, congested traffic, etc.) and further to this, to work with them to optimise the battery size and charging strategy to meet their customers' needs, with the effect of reducing the upfront cost of the vehicle and minimising the weight of the installed battery.
Key element in urban environment
Along with the concerns common to all combustion driven vehicles around fuel efficiency / CO2 emission and the impact of this on the global climate, a further driver for eLCV is the effect of exhaust emissions on local air quality. LCVs are often employed in urban environments as a key element in the logistics chain. There is growing evidence of the adverse effects that exhaust pollutant emissions, especially NOx (nitrogen oxides) and PM (particulate matter), have on local air quality and public health. As a direct result, many large cities are in the process of introducing mechanisms to limit the access of polluting vehicles to city centres. For example, from 2025, approximately 30 Dutch cities will introduce a zero emission zone for city logistics. Combustion engine driven vehicles will increasingly have to pay to access low emission zones within cities, vastly increasing their operating costs. Urbanisation and the continued growth of e-commerce is set to increase demand for the delivery of goods, but the tariff on exhaust emissions in congested urban areas will make eLCV the cheapest way to meet the demand.
The total cost of ownership is important to LCV purchasers and will be a driving force for uptake, however in the short term we can expect there to be a period of progressively larger pilot projects, conducted by commercial fleet operators to establish that eLCVs meet the businesses' operational requirements. This period of validation will be necessary for fleet operators to determine that the vehicle range, load volume capacity, payload weight and reliability in real-world operation are sufficient to replace the existing diesel fleet. Once this has been shown, the widespread replacement of ageing diesel LCVs with eLCV will begin.
Electric vans / light commercial vehicles (LCV) emerging in the US
Following Ford's reveal for an E-Transit electric delivery van, set for production in 2022, it is poised to be the first major OEM to enter the US market with an electric LCV. It is expected that other US OEMs will follow rapidly considering the extra impulse from the California Air Resources Board's Advanced Clean Trucks Regulation. Competition for Ford seems most likely to come from GM, which announced in june 2020 the development of an all-electric van – the BV1. Daimler could launch a bigger battery version of their eSprinter in the US (though Mercedes have said the current EU eSprinter doesn't meet US safety requirements), Chrysler a RAM badged version of the Fiat E-Ducato, and Nissan the e-NV200.
Interest from logistics providers is strong. In the summer, eCommerce giant Amazon ordered 1,200 eSprinter and 600 eVito for use in Europe from Daimler. In the US Amazon is cooperating with the startup Rivian; the first of its own electric transporters are scheduled to join the fleet in 2022. Initially, this will involve 10,000 vehicles, and by 2030 it is planned to cover no less than 100,000 electric vehicles!
Ford, the market leader in Europe with the Transit, is late with the electric model – VW Crafter, Opel Vivaro and Mercedes eSprinter are already 'on the electric road'. Mercedes has been selling the all-electric eSprinter delivery van for about six months in Europe.
Last mile delivery and online retail
With the lockdown in force in most regions and people staying indoors and maintaining social distancing, last-mile delivery of essentials is expected to rise. This will result in greater utilization and reallocation of LCVs in the last-mile application to deliver essentials. This growth and the demand for clean mobility are driving the demand for electric commercial vehicles, or eLCVs. Online retail has boomed: a lot of people are more likely to use online shopping and home delivery for discretionary spending, bolstering demand for LCV and eLCV deliveries. LCVs have never been more important: any retail company that wants to be successful in the 'New Normal' will require a fleet of LCVs to meet the booming demand for online shopping and last-mile delivery. But this demand has to be met responsibly, and concerns about congestion and pollution from delivery vehicles need to be addressed. The good news is that OEMs are making more electric delivery vehicles than ever before, so in 2021 there's no excuse not to swap the white van for a green van and make each and every delivery zero-emission. In a new report, "Electric Vans 2020-2030", market researcher IDTechEx forecasts that global production of electric LCVs will exceed 2.4 million units annually by 2030.
Light commercial vehicle market
Analysts predict the electric powertrain penetration in the global LCV market to be 15.9% and forecast that the eLCV market will grow progressively at a CAGR (compound annual growth rate) of 28.2% between 2017 and 2025. China will clearly dominate, with an approximately 44% share of the global eLCV market by 2025, driven mainly by aggressive incentive structures for fully electric and fuel cell electric vehicles, technology readiness and the installation of recharging stations in large scale. Europe and Japan are expected to be the next largest markets for eLCVs after China, with more number of product line-ups planned by the native manufacturers. North America will follow suit with approximately a 6.4% market share.
Global sales of light commercial vehicle (LCV) are expected to reach 9.49 million units in 2020, with pickups contributing to 4.62 million units. The share of North America (NA) in the overall LCV market stood at 35%, while China held a 25% share, in 2019. Impending disruptions due to Coronavirus 2019 (COVID-19) are expected to impact sales across all regions, with Europe taking the biggest hit due to the severity of the virus. The Renault-Nissan-Mitsubishi (RNM) group retained its global leadership in the light-duty (LD) trucks and vans segment, while Ford continued to lead the pickups segment globally in 2019. Electric LCVs (eLCVs) will continue to gain importance going forward with a slew of launches expected until 2023, with quite a few of them, especially in medium-sized vans, expected in 2020. Renault-Nissan, Volkswagen, Daimler, Ford, and Fiat have plans to come out with new eLCV models this year.
Due to these market developments, first responders will have to deal with accidents involving light commercial vehicles with alternative propulsion more frequently. Information on all these systems, as can be found in the Crash Recovery System, is vital for a quick and safe response.