RAVO 5 eSeries added to Crash Recovery System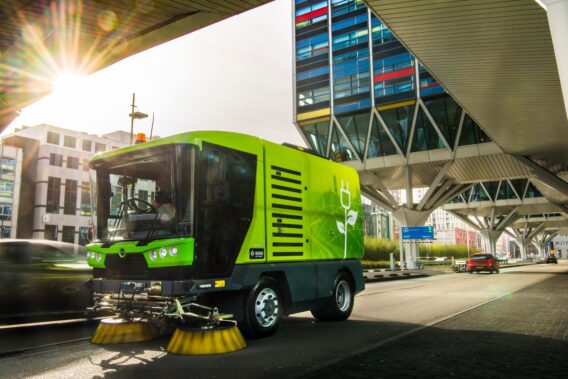 Half of the world's population currently lives in an urban environment, and these numbers are rapidly increasing. This urbanisation has far-reaching consequences for the way in which we will live and work in cities in the future. As a result, towns are increasingly being challenged to look for sustainable solutions to reduce noise pollution and negative environmental impacts and in doing so, keeping cities liveable. For this reason, more and more vehicles such as the RAVO 5 eSeries are appearing on the streets, and therefore also in the Crash Recovery System (CRS) from Moditech Rescue Solutions.
There is always the chance that such vehicles will be involved in an accident. That is why the Crash Recovery System contains a separate category for special vehicles where you can find these types of small municipal vehicles or vans.
The RAVO 5 eSeries is a fully electrically powered, and therefore 100% emission-free sweeper. This vehicle has a lithium iron phosphate (LiFePO4) battery pack with a capacity of 100 kWh/468 Volt (maximum 525 Volt). This type of battery is thermally stable and so it has no auto-ignition temperature or flash point. The battery pack, which can be found in the centre of the vehicle as you can see in the CRS-screenshot, consists of a large amount of individual battery cells that are monitored and controlled by an intelligent Battery Management System. This advanced system ensures that the individual cells can be correctly charged and discharged so that the battery lasts longer and functions optimally.
The electric motor (three-phase permanent magnet motor), which drives the rear wheels, has a peak capacity of 150 kW and a nominal capacity of 70 kW. The torque is 765 Nm. The RAVO 5 eSeries features a regenerative system with which it self-sufficiently recovers power. By releasing the accelerator, the vehicle automatically brakes slowly, and the electric motor functions as a dynamo. In this way, it regenerates power to charge the battery.
The high voltage system, drive unit, charge controllers and inverter are liquid cooled with a typical glycol based coolant. Beware! This coolant can leak if damaged. There are two ways to deactivate the drive system. This can be done with the directional switch and the ignition switch or with the service plug that is included in the battery pack (see image). The deactivation-procedure in the Crash Recovery System will guide you through the various steps to completely deactivate the vehicle.
Are there special vehicles in your area that have not yet been added to the Crash Recovery System? Contact us via marketing@moditech.com and let us know which you would like added.
Make sure your database is up-to-date!
Crash Recovery System, Know what's inside, see what to do!