Crash Recovery System

Virtual

Reality

Training

App
A new technology: the VR Training App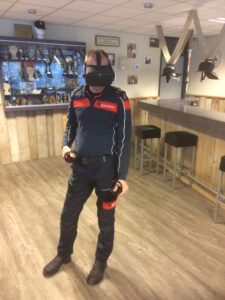 The story had been circulating in the industry for some time in recent months: Moditech Rescue Solutions B.V. that's working on developments around digital simulation.
In the meantime, the Moditech VR Training App has been released! It has become an application in which you as an user can experience three scenarios with modern vehicles. In the scenarios, you can work with the vehicles involved in an interactive way. This in combination with the Crash Recovery System (CRS). Besides the fact that this tool gives you more awareness of how to deal with modern vehicles, it also ensures that you can be much more aware of the CRS.
It is a new technology developed specially to make practicing with the CRS easier and to train with the latest vehicles without having to buy them. An effective way to cut costs. It also makes practicing independent from time and location.
The responses of the instructors involved were very enthusiastic! Practicing the deactivation of modern vehicles with the support of the crash recovery system in a realistic environment wearing VR glasses.
More information? Contact us at marketing@moditech.com