Crash Recovery System

Hyundai

Fuel

Cell

truck

added
Hyundai enters European truck market with XCIENT Fuel Cell truck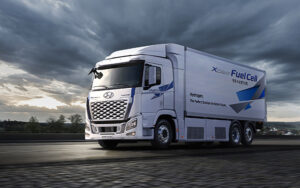 Hyundai has delivered the first seven units of its XCIENT Fuel Cell truck to customers in Switzerland. This truck is the world's first fuel cell heavy-duty truck. This year, a total of fifty will be delivered. The Korean car and truck manufacturer has entered the European truck market with the XCIENT Fuel Cell truck and wants to further expand the sales of fuel cell trucks.
Hyundai also plans to enter the North American and Chinese truck market, thereby stimulating the use of hydrogen as a clean energy carrier worldwide. "Because hydrogen offers endless possibilities." Hyundai sees a great future for hydrogen-electric powertrains in heavy transport, such as trucks and ships. Hydrogen is already widely used by industry and it is expected that this will only increase. After Hyundai presented the very first series-produced hydrogen passenger car – the Hyundai ix35 Fuel Cell – in 2012, it is now also the world's first car brand to manufacture hydrogen trucks on a large scale.
The production capacity of the XCIENT Fuel Cell trucks will grow to 2,000 units per year in 2021 for the European, North American and Chinese truck market, where the demand for clean mobility is strongly increasing. This involves an investment of $ 1.3 billion. For further development, Hyundai works together with various parties in the field of hydrogen production, filling stations, service and maintenance in both North America and China. The XCIENT Fuel Cell truck plays an important role in these expansion plans. Hyundai expects to have more than 12,000 fuel cell trucks in operation in the US by 2030. China wants to have one million hydrogen vehicles on the road by 2030, as hydrogen energy in the country is experiencing enormous growth and therefore offers plenty of opportunities.
A robust hydrogen ecosystem has now been built up in Switzerland to support the entrepreneurs who use the heavy hydrogen trucks. There are currently over 100 hydrogen filling stations in the country – serving not only the trucks but also the fuel cell passenger cars. Hyundai also wants to interest other parties to participate in the hydrogen ecosystem. Based on the success in Switzerland, Hyundai – with partner companies – wants to roll out the system in the Netherlands, Norway, Germany and Austria. North America should follow in 2022.
Hyundai expects to deliver some 1,600 fuel cell trucks to the Swiss market by 2025. Companies such as Coop, Migros, Traveco, Galliker Logistics, Camion Transport, F. Murpf AG and G. Leclerc Transport AG have already placed orders for the XCIENT Fuel Cell truck to be deployed throughout Europe.
Range of 400 km
Hydrogen technology is a suitable fuel for trucks. Hydrogen is easy to store and transport. No heavy batteries are needed and because Hyundai cleverly places the hydrogen tanks behind the cab of each hydrogen truck, the cargo area remains intact. The Hyundai XCIENT Fuel-Cell truck is powered by an electric motor with an output of 350 kW (pulling power 3400 Nm) and a twin fuel cell with a total of 190 kW. These two parallel-mounted fuel cells, each of 95 kW, and seven hydrogen reservoirs with a total storage capacity of approximately 32 kg of hydrogen provide a range of approximately 400 kilometers. Refueling with hydrogen only takes 8 to 20 minutes. The system has a filling pressure of 350 bar. The battery has a capacity of 661 V/73.2 kWh and comes from Akasol.
Hydrogen technology is becoming increasingly important in the search for solutions for clean mobility. Each hydrogen-electrically powered truck provides a reduction of approximately 65 tons of CO2 per year. These trucks will have a major impact on the market in the coming years when it comes to the replacement of diesel trucks. And as a result, rescuers will increasingly have to deal with these types of vehicles.
At the moment the Crash Recovery System describes more than 40 different hydrogen-powered vehicles, such as the BMW Hydrogen 7, the Honda Clarity and the Mercedes F-Cell. It also describes several hydrogen-powered buses, such as those from manufacturers Van Hool (type A 330) and VDL.
Of course, all the information about this special Hyundai-truck is now accessible in the Crash Recovery System. And, even better, some pictures in the CRS will be based on 3D-views! These provide an even more exact representation of the different safety and propulsion components in a vehicle. We will also add the Hyundai XCIENT Fuell Cell truck to our Moditech VR Training App. This is an application in which you as an user can experience three scenarios with modern vehicles. In the scenarios, you can work with the vehicles involved in an interactive way, in combination with the Crash Recovery System (CRS). More info via this link.
Crash Recovery System – Know what's inside, see what to do!
[More about hydrogen developments in this article]